Register for the 4th annual "Run for the Parks - Humboldt"
Join The Park People and Bay View Neighborhood Association for the Fourth Annual "Run for the Parks - Humboldt
This year we'll be raising money and awareness for Humboldt Park and Washington Park! Save the date: (re-scheduled from June 25th)
August 20th, 2013 - Run for the Parks @ Humboldt Park (registration is OPEN!)

This run is a cross-country fun runs that weaves through the parks over hill and dale. Each begins and ends in front of the band shell stage with hundreds of people cheering you on.
All registrants will receive a commemorative T-shirt and a goodie bag with swag from our sponsors. Stay after the event to partake of our special VIP area where you can sample wine and beer as well as well as fruit and snacks while listening to a great concert at the Chill on the Hill concert series.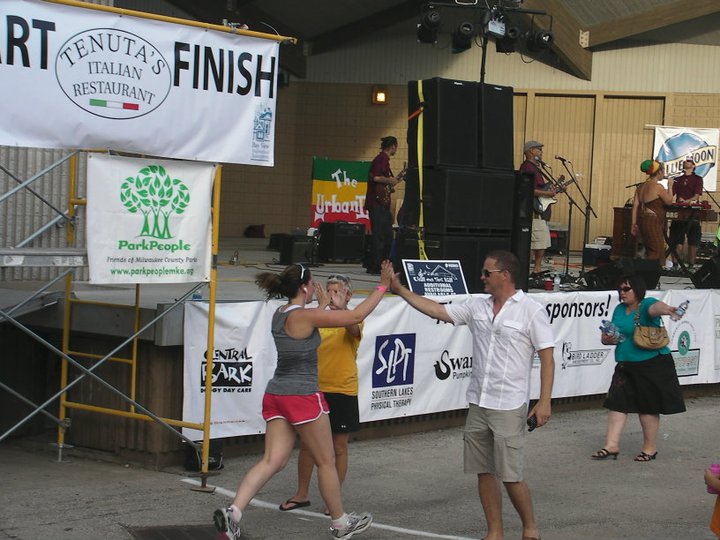 The Park People of Milwaukee County are proud to announce the 4th Annual "Run for the Parks" 5k cross country fun run/walk to be held on June 25th, 2013 at 6:30pm at the Humboldt Park Pavilion.
Proceeds of the run/walk will be used to assist The Park People in their support of our local parks and the Bay View Neighborhood Association in raising funds for improvements at Humboldt Park.
Pre-registration is available online for $25 at http://www.parkpeoplemke.org/5k  or by calling 414-273-7275. Children under 12 are free. Same day registration will also be available for an hour before the fun run begins. All ages and abilities are welcome to participate.
Lace up your shoes and get ready to support your local parks at Humboldt Park on Tuesday, June 25th 2013 at 6:30 for the 4th annual "Run for the Parks"!
On-line registration is now open!

On-site registration will be available ($30) on the day of the run from 5pm-6:00pm at the Humboldt Pavilion.

Event participants are invited to enjoy the weekly "Chill on the Hill" concert in our exclusive VIP area with free assorted beverages and refreshments!
Participants receive:
Commemorative 4th Annual Run for the Parks T-shirt.

Admission to exclusive VIP area after the race sponsored by Barefoot Wine & Bubbly!

Goody bag packed with Milwaukee County Parks coupons and swag from our sponsors!
Proceeds of this 5k fun run and 2k walk will be used to assist The Park People in their support of our parks and improve the Humboldt Park band shell. In addition to helping improve one of Milwaukee's oldest and most beautiful public parks, runners and walkers will receive a T-shirt, goodie bag from our sponsors and refreshments after the race in our own VIP area while we enjoy the evening "Chill on the Hill" concert!
We hope you'll join us and thousands of other park supporters in Humboldt Park on June 25th at 6:00pm for this unique 5k run/walk! You run, you walk, our parks win!!